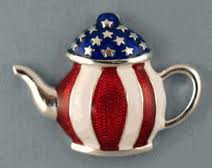 Tea Time will resume Thursday, January 4th, 2018 at IHOP.
Thanks to all of you who came last Thursday, 11/30. We completed the
data collection for VIP which means we don't have to complete it this week, so we are cancelling Tea Time until January 4th.)
Thank you Dolores, Bonnie, Linda, Paul, Suzanne, Harvey, Lori, Mary Ann and Doug.
Our last meeting of the year is our Christmas Party on December 12th at the Clarion. See below for the fun details. Hope you can join us!
Please see below for Action Alerts this week. The Senate passed the tax reform bill. It's now back in the House and will go to a conference committee. This is headed in the right direction, but it's not over yet. Need your help to get it over the finish line.
You're invited to our Christmas
Party on Tuesday, December 12th.
Socialize with old friends and meet some new ones. Celebrate a look-back on our many events, and the successes of 2016, plus a look forward to the challenges we will continue to face in 2018 and why your action, (not inaction) is vital.
If you would like, please bring a wrapped gift of no more than $10.00 to play a fun game - The Santa Gift Exchange is a family friendly game! It is called 'Dirty Santa' because game participants steal gifts from each others in the attempt to end up with the best possible gift. Gifts for Dirty Santa are typically something fun, new, unique, and in good taste.
Hope you can join the fun! Call Jane if you have questions. 828 692 3117

This is our last meeting for 2017. We will resume at IHOP on Thursday, January 4th, 2018!

Tax Reform passed the Senate and is headed back to the House and a Tax Reform Conference Committee to reconcile the differences. Tax Foundation:
As soon as we get 'the Conference Committee list,' we will be putting out another newsletter with the names, Twitter handles, and phone numbers of the group for you to contact.
In the meantime . .. Call and Tweet our Senators and Representatives and make sure they know:
The Senate's elimination of the Obamacare mandate must be part of the final tax reform bill.
The corporate rate of 20% is a good start, but it needs to be brought down to 16% as President Trump wants.
National Review: The GOP Should Put Tax-Loving Democrats on a No-SALT Diet. We're sick of paying for NY, CA, IL and the rest of the blue progressive states!
And, a NO, NO, NO on appointing another board member to Ex-Im bank. This was a win for us. They need one more board member to startspending big, big money on welfare for corporations like Boeing, Caterpillar, and the list goes on. It picks winners and losers, kills competition and drives up prices. It's outdated and needs to go!

Contact info
Senator Richard Burr R-NC @SenatorBurr (202) 224 3154
Rep Mark Meadows R-NC11 @RepMarkMeadows (202) 225 6401
You can also retweet @AshevilleTeaPty. Check our our Facbook pages here and here. Thanks.
President Trump #MAGA
Amazing considering a Senate that has thwarted his agenda at every turn (RINOs & Dems alike) and a media that clearly helps the left in their efforts to resist his every effort.
Recommend you encourage him to keep up the good work whenever you can. One way to do this is to go to https://www.whitehouse.gov/contact and send him a thank you note.
Swamp News
DISGUSTING! Congress Has Used $17 Million Of Our Tax Dollars To Secretly Sweep Sexual Misconduct Under The Rug!
#BuildTheWall #DeportIllegals #NoAmnesty

The Blaze:
Budget Deadline


American Family Association:
Don't have a Twitter account? Simple steps. How Create a Twitter Account ...
here.
Join our team. Become a Heritage Sentinel here. Connect with Twitter: @Heritage_Action. Call Jane if you have questions! 828 692 3117
Always check our Twitter page @AshevilleTeaPty and retweet

FYI: News media outlets and organizations with current information on issues and news



NC News
National Issues


Immigration/refugee/terrorism issues





GLOCK 43 RAFFLE HERE
Help us to continue to aggravate liberals and their failed progressive policies while supporting constitutional candidates and sending a message to the gun grabbers.
"The right to bear arms shall not be "infringed.
Donation: 1 for $6. 2 for $10 in person. Or
Also tickets in person ...
At Fruitful Seasons, Pistol Packin gun store, 1927 Spartanburg Hwy, Unit 20, Hendersonville, NC 28792
At PF Custon Guns, 18 Sunset Drive, Asheville, North Carolina 28806

WE THE PEOPLE ... WE'RE BACK .... Tees and More!
Please continue to check our websites at
We appreciate your donations and continued support and confidence. Asheville Tea Party a 501c4 non-profit.
Asheville Tea PAC is a state and federal PAC that allows us to support candidates who adhere, in word and deed, the principles and values we unshakably stand by.
Twitter @AshevilleTeaPty
We take no salaries. We are accomplishing all we have set out to do. Not bad for this Tea Party movement being dismissed, derided, and marginalized by the Left and the establishment RINOs. Join the fight. We've much, much more to do in our state, locally, and in D.C.!