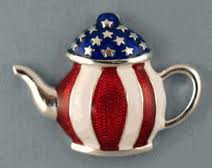 Tea Time Thursday, February 8th, 2018 at 6PM at IHOP, 229 Airport Road, Arden.
Agenda: Working meeting: Candidate slate for May Primary. Bring your suggestions and info. Candidate filing is Feb 12th.

Also: Update on progress with absentee ballot envelopes all over the state/ #NoDACAAmnesty call to action plan for the next few weeks/ #ReleasedMemo
The Budget deadline/2A issues/
ATP/PAC encouraging you to support these events
Saturday, April 21st: Rep Mark Meadows key note at Lincoln Reagan dinner. Please sign up and sit with us. We had a full and up front table last year. After you sign up, let Jane@AshevilleTeaParty.org know. 828 692 3117.
Upcoming: Rebecca McCall, candidate for Henderson County Commissioner for the retirement seat of CommissionerTommy Thompson, will be our guest to answer your questions on Thursday, Feb.22nd at our Tea Time Meeting at Mills River Restaurant. If you are in Henderson County, you don't want to miss this meeting.
If you're not part of the solution, you're part of the problem!