We have much on our plate:  Obamacare #FullRepeal, Refugee resettlement, 2A, HB2, voter id, same day voter registration, illegal gun signs in the parks,, that need our action.   Imperative you get involved.  Contact Jane at 828 692 3117 with questions.  Thanks.  
 Remember, we get what we deserve.  Either you're part of the solution or part of the problem!  Contact Jane at 828 692 3117 if you have questions. Please leave your phone number on the answering machine so I can call you back. Thanks.  
Tea Time Meetings Thursdays, at 6PM at IHOP, 229 Airport Road, Arden. Tea Time Meets Thursdays unless inclement weather or other event conflicts.  We will post on www.ashevilleteaparty.org site and send a newsletter post. Contact Jane at 828 692 3117 with questions.  Thanks. 
TEA TIME MEETING THE LAST THURSDAY OF EACH MONTH

will be at Mills River Restaurant, 6PM with our Hendersonville Friends.  Address 4467 Boylston Hwy, Mills River, NC 28759.  Directions link  
OUR LAST MEETING OF THE YEAR WILL BE OUR CHRISTMAS PARTY, Tuesday, December 12th at the Clarion.  (See below for details.  Hope you can join us!)   We will resume Thursday, Jan 4th at IHOP.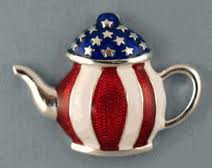 Tea Time will resume Thursday, January 4th, 2018 at IHOP.    Our Christmas Party on Dec 12th is our last meeting for 2017.  See below for info and hope you can join us. 
Thanks to all of you who came last Thursday,  Nov 30th.  You allowed us to complete the 
data collection for VIP which means we don't have to complete it this week so we are cancelling Tea Time until January 4th.)   Thank you Dolores, Bonnie, Linda, Paul, Suzanne, Harvey, Lori, Mary Ann and Doug.  
Lots going on with GOP events in your area.  Check it out!
Courtesy Link to Henderson County GOP Events here.
Courtesy Link to Buncombe County GOP Events here.


   Tax Reform:    Always check  Action Alerts on Tax Reform and what you need to do to move the forward.  
 Put This On Your Calendar! 
 Celebrate the successes of 2016 and look forward to the challenges we will continue to face in 2018.
 If you would like, please bring a wrapped gift of no more than $10.00 to play a fun game –  Santa Gift Exchange is a family friendly game! It is called 'dirty' because game participants steal gifts from each other in the attempt to end up with the best possible gift. Gifts for Dirty Santa are typically something fun, new, unique, and in good taste.  Hope you can join the fun!  Call Jane if you have questions.  828 692 3117
Buncombe County Commissioners meets first and third Tuesday of the month.  All regular meetings begin at 4:30 p.m. in Commission Chambers, 200 College Street – Suite 326, in downtown Asheville.  Come speak your opposition to refugee resettlement.
Share on Facebook