Today's headlines lead with another police shooting. This time two dead officers in Iowa. (Good news is they have the suspect in custody.) While the authorities are dealing with finding and bringing these despicable pond scum to justice, please show your appreciation with a small token of appreciation by Taking a Policeman To Lunch. ATP makes no money on this fundraiser. It is our small way to say 'Thank You' to our police, sheriff, highway patrol, state troopers, for putting their lives on the line for us. " ... There's literally a clear and present danger if you're a police officer. ..."
With all the negative things being said and done regarding police officers, the Asheville Tea Party would like to give our "community protectors" a gift card for lunch. Law Enforcement officers in Buncombe, Henderson, and Transylvania counties (NC) will randomly be given gift cards. We are purchasing $10.00 gift cards from a variety of vendors then giving them to police officers as we see them at work. The gift cards are given with a hand written thank you note that will include the donors name.
Please help us say THANK YOU to those who put their lives on the line everyday to keep us safe. Thank YOU for your support. See below for details and how you can become part of the Thank Youeffort.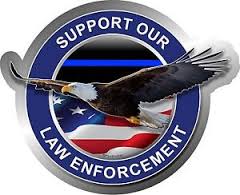 Support Law Enforcement
with a $10 Appreciation Gift Certificate for Lunch
The Plan
As we see an officer, ATP will present him/her with a 'Thank You' and a gift certificate for lunch to one of the following businesses:
Subway, Fireside Subs, Chick-fil-A, or Charile's On The Creek in Fletcher for lunch or gas.
For a $10 donation: Your name appears on a 'Thank You' card and the gift certificate.
Thank YOU and please thank those among us who put their lives on the line for us every day.
"How can I donate?"
There are four ways:
Or, come to Tea Time on Thursdays, 6PM, IHOP, 229 Airport Road. Check
here
for meeting dates.
Or send checks to ATP c/o J. Bilello, 218 Vincent Place, Hendersonville, NC 28739.
Please specify 'law enforcement.'
For more info, call Jane at 828 692 3117
or email jane@ashevilleteaparty.org.