Don't miss this weekend at the
Land of Sky Gun and Knife Show
at the Ag Center in Fletcher on Saturday March 9th (9AM - 5PM) and Sunday, March 10th (10AM - 4PM)
ATP will be there with your chance
to win a $50 Gift Certificate to Bear Arms Indoor Shooting Range. $3.00/ticket. Draw Sunday March 10th at 3:30PM.
And with
AR-15 tickets
,
We The People shirts and hats
, and most important, we will have the
Petition for our Henderson County Commissioners
to urge the sheriff to renew Henderson County's 287g program with Immigration and Customs Enforcement (ICE)
since he continues to flirt with not renewing it
.
Henderson county residents have every reason to be
alarmed, considering that the Buncombe sheriff joined
other Democrat sheriffs in NC
to end their relationship with ICE. Get the
Facts on 287g.
We don't need illegal alien criminal set loose in our county. This issue also becomes part of the larger one of a Border Wall on our southern border. The petitions will be delivered this coming week to the Commissioners.
Read more here.


Please always check our Event Calendar for upcoming events so you don't miss a thing! Much happening in March, April and May. Be sure to join us and call if you have questions. Jane 209 986 3845. jane.bilello@gmail.com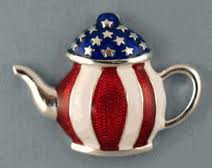 Our March Tea Time Meetings (not socials) will be

Thursday, March 14th at 6PM at IHOP, 229 Airport Rd., Arden.
What we're working on this week.
Reports: 287g petition update.
HR1 Tweet Fest 3/6
Thursday, March 28th at 6PM at Mills River Restaurant, 4467 Boylston Hwy, Mills River, NC 28759. We will be working on our Tea Party 10th Anniversary Rally with Haywood 9.12 on Monday, April 15th! Details at the meeting!
Two other great events:
Thursday, March 14th at Noon ( please arrive by 11:30 am if you want to order lunch): Buncombe County Republican Women's Club is hosting Hal Weatherman, Chairman for the Dan Forest Exploratory Committee For Governor
Lt Governor Dan Forest is our endorsed candidate for office. We helped get him elected as Lt Governor. He has remained true to his conservative word. Please support Dan Forest! Thank YOU Dan!

Place: J & S Cafeteria
800 Fairview Road
Asheville, NC 28803
(828) 298-1209

Please consider joining us at the Lincoln Reagan Dinner on Saturday, April 6th. We support this each year. The HCGOP has been a good friend and ally. See here for details and make sure you tell Merry you're sitting with ATP. Rep Mark Meadows is the keynote. 🙂
BREAKING NEWS! THIS IS BIG!

CHEROKEE COUNTY, NC is officially the first Gun Sanctuary County in the state of NC as of March 4th, 2019!
The Resolution (written by Dr Dan Eichenbaum ) was passed
by the Cherokee County Commission at the March 4 meeting. The Cherokee
County Sheriff spoke at the commission meeting voicing his support of
this resolution, his support of the 2nd Amendment, and the importance of
it to the citizens of our county.

Copies are being sent all over, of course, especially to every county
commission and Sheriff's Office in NC as well as all the
representatives, state and national.
We are officially the first *Gun Sanctuary County in the state of NC!!
A Resolution Declaring Cherokee County, NC, a Gun Sanctuary County
On behalf of the citizens of Cherokee County, North Carolina, the Cherokee County Board of Commissioners state and accept as true the following:
The Declaration of Independence states that people are "endowed by their Creator with certain unalienable Rights, . . . to secure these rights, Governments are instituted among Men . . . deriving their just powers from the consent of the governed"
John Adams wrote in 1A Dissertation on the Canon and Feudal Law (1765): "I say RIGHTS, for such they (the people) have, undoubtedly, antecedent to all earthly government, Rights, that cannot be repealed or restrained by human laws, Rights derived from the great Legislator of the universe."
Natural Law Rights, given to each of us by Our Creator, are the basis of our Constitution by which they are protected and secured to each of us. Natural Law Rights, including that of self-protection, are guaranteed by our Laws, our History, and our Traditions
It is the natural tendency of civil government to expand beyond the limits of its rightful Constitutional authority and to usurp powers which have not been given to it through the delegated consent of the governed.
Whenever the uses of government are perverted, individual sovereignty is overtly endangered or threatened, and all other means of redress are ineffective, the People may, and in fact ought to, force the reestablishment of the original constitutional limits of government.
Resistance against arbitrary power and oppression is the obligation of every Patriot, as not to do so is destructive to the good and happiness of mankind. In fact, it is the duty of the People of Cherokee County, through the actions of their lesser magistrates, namely local elected officials and sheriffs, to challenge the civil government when and where it exceeds or threatens to exceed its bounds.
The Constitution of the United States is the Supreme Law of our nation
The Second Amendment to the Constitution of the United States of America states: "A well-regulated Militia being necessary to the security of a free State, the right of the people to keep and bear arms shall not be infringed"
The U.S. Supreme Court found in Miranda v. Arizona (1966) stated that "Where rights secured by the constitution are involved, there can be no rule making or legislation which would abrogate them."
10.The U.S. Supreme Court in the District of Columbia v. Heller (2008) decision affirmed that the Second Amendment right to keep and bear arms is not connected in any way to service in a militia
Many congratulations to Dr Dan and Cherokee County! They are a model and inspiration for all of us!