4/13/2017:
Below is a continuation of the same discussions that Congressman Meadows has had with leadership to include the repeal of the major Title I regulations in the AHCA or another bill. Not much has changed and it sounds like getting something done before recess is off the table now since Ryan won't be calling members back early. There were rumors that may happen but it sounds like that isn't happening anymore.
Related to this the Daily Caller had a piece which talks about the dynamics between

Tuesday

Group and HFC. The title sounds way more negative than the actual piece is so I'd encourage everyone to read it through to the end. Also, blame directed at the

Tuesday

Group is starting to gain traction beyond the Grassroots too so that is encouraging since we want to make sure that Republicans who campaigned on repealing Obamacare aren't able to escape not wanting to repeal the regulations.
3/8/2017
Posted at 8:38 am on March 7, 2017 by Caleb Howe
-----------------------------------------------------------------
2/14/2017: AC-T LTE: (Join the Conversation) Meadows Wrong ... http://www.citizen-times.com/story/opinion/readers/2017/02/13/letter-meadows-wrong-what-constituents-want/97842194/
Obamacare continues to fail. Humana to pull out in 2018. Will repeal, replace & save healthcare for ALL Americans. https://origin-nyi.thehill.com/policy/healthcare/319538-humana-to-drop-out-of-obamacare-marketplace-at-end-of-2017 …
-------------------------------------------
2/9/2017
Health Reform:
Republicans are giving every sign that they are backing away from repealing ObamaCare anytime soon. If the GOP fails to get this done, it won't be the result of Democratic opposition, but their own incompetence.
Over the weekend, President Trump suggested that repealing and replacing ObamaCare could take a year or more. After saying just a few weeks ago that he was putting the finishing touches on a replacement plan, he's now talking as though the work has barely begun.
Some Republicans are talking up proposals to tinker around the edges with the law, and of "repair" rather than "repeal," because that's more politically palatable. Everyone is talking about how complicated the whole thing is. "Slow down!" seems to be the order of the day.
The fact that Republicans — who have been agitating for ObamaCare's repeal for six years — seem so totally unprepared to get it done now that they have the opportunity is remarkable.
It's not as though they don't have credible replacement plans. Trump's own secretary of Health and Human Services, Tom Price, introduced a replacement bill two years ago, and the House Republican leadership signed on to a detailed proposal over the summer. The GOP leadership and conservative health reforms are in general agreement about the basics of a replacement plan.
Maybe Republicans are confused about what needs to be done immediately, and what can be done over time.
The most urgent need is to repeal ObamaCare's disastrous insurance market regulations, its Rube Goldberg subsidy scheme and its costly benefit mandates. These are driving insurance premiums through the roof, industry profits into the ditch and pushing individual markets across the country to the brink of collapse.
Republicans don't need to be shy in arguing that they have a far better approach than ObamaCare-style central planning to fix the individual market.
Just eliminating ObamaCare's mandates and regulations will lower insurance costs, which can be further reduced by removing government-imposed barriers to competition and needless restrictions on Health Savings Accounts.
A simple, refundable tax credit can make insurance still more affordable to middle-income families, and more effectively than ObamaCare's bizarro-world subsidies. The sick can be taken care of without outlawing insurance underwriting through guaranteed renewability and high-risk pools.
The GOP also needs to remember that despite all the hoopla, relatively few people have actually gained coverage in the individual market because of ObamaCare. This year, for example, enrollment in the federal exchange was flat (and not because of any repeal talk), putting it dramatically below expectations. The young and healthy continue to avoid the exchanges because of costs, making these markets increasingly unstable. Before ObamaCare existed, 15 million managed to buy coverage on the individual market all on their own.
No matter what, the ObamaCare-caused crisis in the individual market must be dealt with, as soon as possible, particularly since insurance companies have to start announcing their 2018 premiums in two months. Delaying these actions will only embolden Democrats, and Republicans will take the blame for ObamaCare's inevitable market meltdown.
As for the rest of ObamaCare, the need for action is far less urgent.
ObamaCare's Medicaid expansion, for example, can be dealt with in due time as part of a wholesale Medicaid reform. Any changes to Medicaid will have to be phased in, which means that those who gained coverage under ObamaCare won't be affected in the interim.
ObamaCare's Medicare cost-cutting is likewise an issue that can be dealt with at a later date, also as part of broader fixes to the program. Most of the rest of ObamaCare amounts to tinkering around the edges of the health care system, and will be little missed by anyone.
Our advice is for the GOP to quickly and resolutely develop a plan to repeal and replace ObamaCare's individual market monstrosity, and dare Senate Democrats to filibuster it and leave the law as is.
If Democrats do that, then at least then public will know who to blame as ObamaCare exchanges continue to crumble.
2/8/2017
As Conservatives Review's Daniel Horowitz has repeatedly warned, timid congressional GOP leaders have no intention of repealing Obamacare. Instead, they want to "fix" it — an impossible task.
But last Friday, they lost their last excuse for not repealing every word of the ill-conceived, destructive health care law.
Two new pieces of information change the equation dramatically.

Top articles of the week from the Galen Institute's
January 19, 2017
---
HHS Nominee Price Sees 'Access' to Coverage as Health Reform Goal
Trump on ACA Replacement: Private Insurance Companies Will 'Take Care of a Lot of the People That Can Afford It'
Trump Spokesman Says Obamacare Replacement Will Harness Marketplace Competition
GOP Senators Want to Give States Obamacare Choice
The Republican Health Care Debate
Repeal and Replace Obamacare: What Could It Mean?
Fixing Health Insurance Reform is a Zero Sum Game: The Only Way Republicans Can Lower Costs is to Provide Less Coverage––Wrong!
Yes, Republicans Have a Plan for Health Reform
Exhale: Republicans Aren't Going to Let Obamacare's Insurance Markets Collapse
Four Critical Problems with The CBO's Latest Obamacare Repeal Estimates
How Many Obamacare Patients Have Pre-Existing Conditions?
Bernie Sanders's Claim That '36,000 People Will Die Yearly' If Obamacare Is Repealed

---
Republicans Craft Obamacare Replacement
HHS Nominee Price Sees 'Access' to Coverage as Health Reform Goal
By Eilperin and Goldstein
The Washington Post,
Jan. 18, 2017
Rep. Tom Price (R-GA), President-elect Donald Trump's choice to head the Department of Health and Human Services, faced a contentious Senate hearing
Wednesday
as Democrats questioned his ideas for the future of Americans' health coverage. Price laid out central elements of his years-long attempt to replace the Affordable Care Act. He told senators that "it is absolutely imperative" for the government to ensure that all Americans "have the opportunity to gain access" to insurance coverage.
Trump on ACA Replacement: Private Insurance Companies Will 'Take Care of a Lot of the People That Can Afford It'
By Louis Nelson
Politico,
Jan. 18, 2017
President-elect Donald Trump says the program he plans to institute as a replacement for the Affordable Care Act will "get private insurance companies to take care of a lot of the people that can afford it." "We're going to have a plan that's going to be great for people. And it's going to be much less expensive. And you will be able to actually have something to say about who your doctor is and your plan," Trump told Fox News' "Fox & Friends" in an interview
Wednesday
morning. "We have to cover people that can't afford it. And that's what I'm talking about. And we'll probably have block grants of Medicaid back into the states. … Nobody is going to be dying on the streets with a President Trump."
Trump Spokesman Says Obamacare Replacement Will Harness Marketplace Competition
By John Wagner
The Washington Post,
Jan. 16, 2017
A spokesman for Donald Trump sought
Monday
to elaborate on the president-elect's earlier tweets about his plans to replace the Affordable Care Act, vowing that the new administration would lower health care costs by infusing more competition into the marketplace. Trump's goal is "to get insurance for everybody through marketplace solutions, through bringing costs down, through negotiating with pharmaceutical companies, allowing competition over state lines," Sean Spicer, the incoming White House press secretary, said during an interview on NBC's "Today" show.
GOP Senators Want to Give States Obamacare Choice
By Robert King
Washington Examiner,
Jan. 17, 2017
Two Republican senators are working on legislation that would let states decide whether they want to keep Obamacare or move to a different system. Sens. Bill Cassidy of Louisiana and Susan Collins of Maine both hinted on the Senate floor
Tuesday
about a bill that would preserve Obamacare, but only for states that choose to keep it. Cassidy said the bill would be essentially the same as a bill he introduced in the last Congress called the Patients Freedom Act. It lets states decide if they want to stay in Obamacare if it is working or leave. "The state could go with the alternative, which we will lay out, the state could opt for nothing — no Medicaid expansion and no help for lower-income folks — or the state could opt to stay in Obamacare," Cassidy said.
Commentary: What Will the Replacement Entail?
The Republican Health Care Debate
By Yuval Levin
National Review,
Jan. 17, 2017
Republicans have made a great deal of progress toward broad agreement on a general policy approach over the past half-decade. The GOP has been preparing for the opportunity to enact conservative health care reform for years, and it now faces both a party electorate and a health care system that will not allow for endless indecision. It is too soon to know what the final product will look like, and whether a series of reconciliation bills or some uneasy combination of partisan and bipartisan measures will emerge. But it does seem likely that a year of intense action on health care is beginning.
Repeal and Replace Obamacare: What Could It Mean?
By Stuart M. Butler
Journal of American Medical Association
, Jan. 17, 2017
President-elect Trump supports the familiar Republican themes of tax-free Health Savings Accounts and allowing families to deduct health insurance premiums in their tax-returns. This opens the door to a serious and conceivably bipartisan discussion about how to replace the complex structure of Obamacare subsidies and tax breaks. The familiar Republican call to take the federal money for Medicaid expansion as a block grant and turn it into subsidies for families to buy private coverage has received plenty of the attention. But the broader theme of giving states much greater flexibility could become a different pathway to the goal of affordable and adequate health coverage for all.
Fixing Health Insurance Reform is a Zero Sum Game: The Only Way Republicans Can Lower Costs is to Provide Less Coverage––Wrong!
By Robert Laszewski
Health Care Policy and Marketplace Review,
Jan. 13, 2017
Lawmakers will need to grapple with the fact that sick people are expensive to cover, and someone has to pay. However, we must understand that there is no certain cost to health insurance. What the general discussion about how to cover people in the future is missing is that Obamacare is so flawed that by itself it is manufacturing plan premium levels that are at least 30% to 40% higher than they need to be. What would happen if the plans were more attractive––if people saw value in them? And, if we had 75% of the eligible group signing up as a result, what impact would that have on current premiums?
Yes, Republicans Have a Plan for Health Reform
By Grace-Marie Turner
The American Conservative
, Jan. 18, 2017
Despite assertions to the contrary from the media and the left, Republicans do have a plan for health reform—but it will not be another 2,000-page behemoth attempting to re-engineer our health sector from the top down, with a conservative twist. But they must begin with repeal. Consumer-friendly reform policies cannot be built on top of the Obamacare wreckage. Republican policies will be much more flexible and consumer-friendly than the one-size-fits-all policies that Obamacare mandates. They will devolve power to the states to oversee their health-insurance markets so people can purchase the one that best meets their needs. Those at the lower end of the income spectrum will receive financial help with additional high-risk assistance.
Exhale: Republicans Aren't Going to Let Obamacare's Insurance Markets Collapse
By Christopher Condeluci
Forbes,
Jan. 15, 2017
It is well-accepted that the individual health insurance markets are unbalanced and it is well-established that the unbalanced markets are resulting in financial losses for insurance companies and premium increases for consumers. Once portions of the ACA are repealed in the coming weeks, Republicans will undertake efforts to improve the current regulatory environment by attempting to stabilize the individual insurance markets. For example, they may fund the "cost-sharing" reduction subsidies for 2017, 2018, and likely 2019. They may also provide funding to cover high-risk individuals.
Fact Checking
Four Critical Problems with The CBO's Latest Obamacare Repeal Estimates
By Avik Roy
Forbes,
Jan. 17, 2017
The Congressional Budget Office (CBO) released a
report
this week arguing that the partial repeal of Obamacare being contemplated by Republicans would wildly increase the number of people without health insurance in ways that are difficult to understand. Here are four problems with the CBO's analysis.
1. The CBO's estimates assume no Obamacare replacement
2. The CBO massively overestimates the impact of Obamacare's individual mandate
3. The GOP repeal bill is likely to treat Medicaid differently than the CBO does
4. CBO's 2010 estimates of Obamacare's coverage expansion were off by more than 10 million
How Many Obamacare Patients Have Pre-Existing Conditions?
By Betsy McCaughey
The Wall Street Journal,
Jan. 18, 2017
President Obama recently warned that if Congress junks the Affordable Care Act, "133 million Americans with pre-existing conditions" will be in jeopardy. The actual number is roughly 500,000. For starters, half of Americans get their insurance through an employer. Another 34% are on Medicaid or Medicare. For all these people, pre-existing conditions are no barrier to coverage. Pre-existing conditions mattered before Obamacare only in the individual market, but even there few were affected. Many of these people with pre-existing conditions managed to get health coverage through the high-risk pools run by 35 states.
Bernie Sanders's Claim That '36,000 People Will Die Yearly' If Obamacare Is Repealed
By Glenn Kessler
The Washington Post,
Jan. 14, 2017
"As Republicans try to repeal the Affordable Care Act, they should be reminded every day that 36,000 people will die yearly as a result."
— Sen. Bernie Sanders (D-Vt.), in a tweet, Jan. 12, 2017
Sanders has tweeted as a definite fact an estimate that assumes Republicans will gut Obamacare without a replacement, assumes the worst possible impact from that policy, and assumes that data derived from the
Massachusetts experience
can be applied across the United States. The Fact Checker's conclusion: Bernie gets Four Pinocchios.
Copyright © 2017 Galen Institute, All rights reserved.
You are receiving this email because you subscribed through our website or email, or you met one of our experts.
Our mailing address is:
Galen Institute
P.O. Box 320010
Alexandria
,
VA
22320
Want to change how you receive these emails?
------------------------
Melissa Quinn from the Daily Signal has gone back through the health care archives and pulled more than a dozen articles written in 2016 and 2015 that address Obamacare. Some are about individuals, while others are about businesses impacted and areas of the health care law we know have failed. Jessica Anderson, Heritage Action Grassroots Coordinator
Headlines and links below, feel free to use on twitter or facebook as needed:
2016
Obamacare May Soon Be Over. Here's What Americans Have Thought of the Law Since 2010.
http://dailysignal.com/2016/12/13/obamacare-may-soon-be-over-heres-what-americans-have-thought-of-the-law-since-2010/
Meet 2 Hurting Americans Who Are Ready for Congress to Repeal Obamacare
http://dailysignal.com/2016/11/29/meet-2-hurting-americans-who-are-ready-for-congress-to-repeal-obamacare/
Post-Obamacare, These People Are Leaving Their Jobs
http://dailysignal.com/2016/10/27/post-obamacare-these-people-are-leaving-their-jobs/
In 6 Charts, the Rising Costs of Obamacare Rates
http://dailysignal.com/2016/10/25/in-6-charts-the-rising-costs-of-obamacare-rates/
In 3 Years, His Insurance Premiums Double as Options Decline Under Obamacare
http://dailysignal.com/2016/10/17/in-3-years-his-insurance-premiums-double-as-options-decline-under-obamacare/
The Obamacare Alternative More Americans Are Turning To
http://dailysignal.com/2016/09/12/the-obamacare-alternative-more-americans-are-turning-to/
Her Health Plan Was $257 a Month. Now Her Obamacare Plan Could Be $650 a Month.
http://dailysignal.com/2016/08/18/her-health-plan-was-257-a-month-now-her-obamacare-plan-could-be-650-a-month/
The 16th Obamacare Co-Op Has Collapsed. Here's How Much Each Failed Co-Op Got in Taxpayer-Funded Loans.
http://dailysignal.com/2016/07/12/the-15th-obamacare-co-op-has-collapsed-heres-how-much-each-failed-co-op-got-in-taxpayer-funded-loans/
Under Obamacare, Small Business Owner Forced to Get Rid of Health Care Benefits or Face Fine Up to $500K
http://dailysignal.com/2016/05/30/under-obamacare-small-business-owner-forced-to-get-rid-of-health-care-benefits-or-face-fine-up-to-500k/
2015
This Nashville Deli Is Closing in Part Because of Obamacare
http://dailysignal.com/2015/12/11/why-this-nashville-deli-is-closing-because-of-obamacare/
http://dailycaller.com/2017/04/12/meet-the-other-group-of-conservatives-holding-up-obamacare-reform/#ixzz4e3J7oFOv
---------------------------------------------------------------------------
Indiana Man Says IRS Fined Him $2,344 for Violating Obamacare's Individual Mandate
http://dailysignal.com/2015/10/16/indiana-man-says-irs-fined-him-2344-for-violating-obamacares-individual-mandate/
How Obamacare Will Cost Native American Tribes Millions of Dollars
http://dailysignal.com/2015/09/21/how-obamacare-will-cost-native-american-tribes-millions-of-dollars/
Why This Family Struggled to Secure Health Insurance Under Obamacare for Their 4-Year-Old Son
http://dailysignal.com/2015/05/06/this-family-struggled-to-secure-health-insurance-under-obamacare-for-their-4-year-old-son/
After Expanding Under Obamacare, This 123-Year-Old Insurance Company Is Closing Its Doors
http://dailysignal.com/2015/05/04/after-expanding-under-obamacare-this-123-year-old-insurance-company-is-closing-its-doors/
Obamacare a Factor in IHOP Owner's Decision to Sell His 16 Restaurants
http://dailysignal.com/2015/03/22/this-longtime-ihop-owner-sold-his-restaurants-because-of-obamacare/
How Incorrect Obamacare Tax Forms Could Impact Students Applying for Financial Aid
http://dailysignal.com/2015/03/12/incorrect-obamacare-tax-forms-impact-students-applying-financial-aid/
How One Nebraska Woman Lost Her Health Insurance Three Times Under Obamacare
http://dailysignal.com/2015/02/17/one-nebraska-woman-lost-health-insurance-three-times-obamacare/
--
---
11/10/2016: Daily Signal: How Republicans Can Start Dismantling Obamacare With a Trump Presidency here.
Two strategies to dismantle Obamacare are reconcilliation (vs filibuster) and the 'two speech rule'
============================================================
Good afternoon from Washington, where Congress is headed home for the holidays after wrapping up a massive spending package. We've got the lowdown on a provision that may spell the end for fragile Obamacare co-ops. We spotlight an accounting gimmick that lets Congress spend more. And, in this last Capitol Bell until lawmakers return in the New Year, we chronicle how they failed to rein in the EPA after the agency allegedly broke the law. A Merry Christmas to you and yours.

A provision of the omnibus spending bill could jeopardize the future of Obamacare co-ops. The measure, which passed the House on Friday, prohibits taxpayer dollars from being used to "bail out" insurers under Obamacare's risk corridor program. The Daily Signal's Melissa Quinn reports on another consequence.
There's a $19 billion accounting gimmick in the government spending bill.The Heritage Foundation's Justin Bogie explains how lawmakers freed up more money for Congress to spend.
Federal agencies are probably celebrating today. They just learned there's pretty much nothing they can do, including allegedly breaking the law, that will earn the wrath of Congress. Heritage Foundation research fellow Daren Bakst says that's certainly the case for the Environmental Protection Agency.
What we're reading: The price of President Obama's personal getaways has topped $70 million since he took office in 2009. According to a report from Judicial Watch, personal trips by the Obama family cost taxpayers $11.6 million for travel in 2015. The Obamas are planning to leave for Hawaii today. Anita Kumar of McClatchy has the story.
ONE MORE THING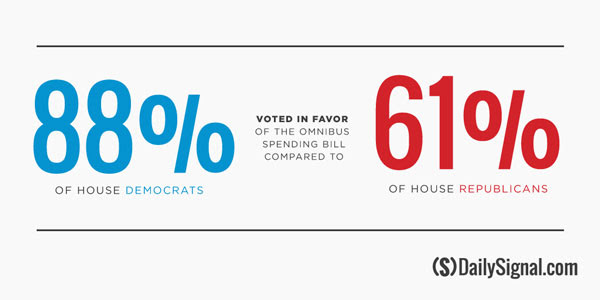 This morning, the $1.1 trillion omnibus spending bill sailed through the House. Daily Signal congressional correspondent Philip Wegmann has the breakdown of the 95 Republicans who split with House GOP leadership to vote against the bill.

The Daily Signal is brought to you by more than half a million members of The Heritage Foundation.
7/13/2015
From Heritage Action
7/13/2015 Obamacare Repeal: In the wake of the Supreme Court's ruling in King v. Burwell, it has become clear that the only way to deal with Obamacare is to repeal it. Obamacare was originally passed using reconciliation, the measure by which the Senate can pass budgetary bills with only 51 votes, and the Senate can repeal the entire law using those rules. The GOP in Congress was initially aiming to tackle Obamacare by July 24, but Senate Republicans are now downplaying expectations that they'll use the tool. Sentinels should call their senators and urge them to use reconciliation to repeal Obamacare fully before the August recess.
----------------------
4/23/2015: Moments ago, Senator David Vitter pleaded with the Senate Small Business Committee, which he chairs, to subpoena the secret documents in which the House and Senate each claimed to be a "small business" with less than 50 employees -- to avoid going into the regular Obamacare exchanges.
The same Obamacare exchanges they had the nerve to force millions of others Americans into. Now 13,700 House and Senate members and their staff have signed up as a "small business" under this false declaration.
Please click here now to demand Congress end this fraud and stop exempting itself from Obamacare!
Senator David Vitter's effort to expose these fraudulent documents failed because his committee voted against the subpoena 5 to 14.
Kudos to the five Republicans who voted YES on the subpoena:
Chairman David Vitter (La.)
Marco Rubio (Fla.)
Tim Scott (S.C.)
Cory Gardner (Colo.)
Joni Ernst (Iowa)
Shame on the five Republicans who voted NO:
Mike Enzi (Wyo.)
Jim Risch (Idaho)
Rand Paul (Ky.)
Deb Fischer (Neb.)
Kelly Ayotte (N.H.)
And shame on all nine Democrats who voted NO:
Ranking Member Jeanne Shaheen (N.H.)
Maria Cantwell (Wash.)
Ben Cardin (Md.)
Heidi Heitkamp (N.D.)
Ed Markey (Mass.)
Cory Booker (N.J.)
Chris Coons (Del.)
Mazie Hirono (Hawaii)
Gary Peters (Mich.)
It's sickening that Congress got away with this in the first place, but to double down and conceal these documents from the public is simply unacceptable.
Senator Vitter is fighting hard, but too many members of Congress of both parties are happy enjoying a special exemption for themselves and their staff. Even if it is based on the obscene fraud that Congress is a "small business."
Thank you for all you do,
Phil Kerpen
President, American Commitment
-----------
Sample letter
April 23, 2015
Dear Representative Meadows:
Dear Senator Burr:
Dear Senator Tillis:
The Patient Protection and Affordable Care Act requires members of Congress and their staff to go into the Obamacare exchanges like millions of other Americans losing employer coverage.

Unlike all of the other Americans being dumped into Obamacare exchanges, and contrary to law, Congress received a special exemption forcing taxpayers to pay most of their premiums. That's wrong.

Even worse, both the House and Senate filed false documents claiming to have less than 50 employees so they could go into the "small business" exchange instead of the regular Obamacare exchange.

I urge you to support all efforts to hold accountable the people responsible for filing these false documents.

I further urge you to support Sen. David Vitter's No Washington Exemption from Obamacare Act, support all procedural strategies to bring it to a vote, and to vote for it.
Sincerely,
Obamac are Repeal Strategy 2017 http://heritageaction.com/2016/12/heritage-action-memo-repeal-obamacare-inauguration/
---
Mrs. Jane Bilello
218 Vincent Place
Hendersonville, NC 28739
3/27/2015: JLF Expert Says Obamacare Ruling will Have Major Impact on NC: https://ashevilleteaparty.org/?page_id=11181

Katherine Restrepom JLF expert on Obamacare, coming to ATP on Thursday, May 14th, 7 PM, Skyland FD, AVL. Crucial Supreme Court decision on this debacle is coming. We need to be armed with the facts.
3/20/2015: Piecemeal CON Reform Already Causing A Stir Amongst Hospitals:http://www.johnlocke.org/newsletters/research/2015-03-20-cq714tdlmtjl7v4uij11bd50g3-health-update.html
2/27/2015: Health Care Freedom NOT: http://www.johnlocke.org/newsletters/research/2015-02-27-f4oqfd2g3vtd2pbe2gr4h21hb0-enviro-update.html3/13/2015: Supreme Court Case to Determine Obamacare tax: King vs Burwell Recap: http://www.johnlocke.org/newsletters/research/2015-03-13-1almbkem56fb2ufdjoukdcung0-health-update.html/ Katherine Restrepo to be our guest speaker on Thursday, May 14th at Skyland FD for our General Membership Meeting.
10 Principles For Replacing Obamacare: http://www.freedomworks.org/content/10-principles-replacing-obamacare?source=02241514dayintro
-------------
3/2/2015:
JLF expert says Obamacare ruling will have major N.C. impact
Restrepo available to comment on March 4 Supreme Court hearing
Contact:
Katherine Restrepo

610-698-9653
RALEIGH -- The federal Affordable Care Act, or Obamacare, heads to the U.S. Supreme Court again on Wednesday. Justices will hear oral arguments in King v. Burwell, a case in which plaintiffs seek to have the health care law operate as written.

If the court sides with the plaintiffs, Obamacare subsidies would end in states with no state-based health insurance exchange. The result for North Carolina could be "insurance upheaval," according to Katherine Restrepo, John Locke Foundation Health and Human Services Policy Analyst.

Restrepo recently previewed the case for Forbes readers. "Should the court's final ruling in June deem that subsidy distribution in federal exchanges is illegal, what will this mean for North Carolina?" Restrepo asks in her Forbes column.

"Since these subsidies are tied to the individual mandate along with the bipartisan-panned employer mandate, over 10,000 large employers, 2.5 million employees, and 400,000 individuals in the Tar Heel State could indeed be liberated from these penalties.

"Let me explain. In a state-based exchange -- where subsidies are legal -- if an employer with 50 or more full-time workers does not provide health insurance and one of the employees purchases an exchange plan on his own and qualifies for a subsidy, then the employer is hit with a penalty. Receiving a subsidy triggers a tax on the employer. However, for federal exchange states the absence of subsidies would eliminate the law's tax on employers who do not provide health coverage for their workers.

"Outrage would also ensue," Restrepo adds. "No subsidies mean that millions of citizens would be exposed to the full cost of Obamacare health insurance premiums."

The Republican congressional majority would have more opportunities to negotiate with President Obama on this "unworkable law," Restrepo said.

"Medical care can certainly be more affordable with fewer of the taxes and regulatory requirements Obamacare currently imposes," she said. "And there are ways that insurance companies can compete for individuals with pre-existing conditions by offering portable, secure, guaranteed renewable policies.

"A popular proposal co-sponsored by our very own U.S. Sen. Richard Burr advises the repeal of all 20 Obamacare taxes and fees that economically burden employers, insurance companies, medical device companies, individuals, and the like. Instead, it proposes to liberalize the exchanges (liberalization in the good sense) so that insurers can be more flexible with the products they offer."

See Katherine Restrepo video on King v Burwell Obamacare case: Here

For more information, please contact Katherine Restrepo at (610) 698-9653 orkrestrepo@johnlocke.org. To arrange an interview, contact Mitch Kokai at (919) 306-8736 or mkokai@johnlocke.org
------------------
2/11/15: Obamacare C0-Ops Cost Taxpayere $17,000 for Each Enrolee: See the chart!
http://dailysignal.com/2015/02/11/much-taxpayer-money-obamacare-co-op-receive-per-enrollee/?utm_source=heritagefoundation&utm_medium=email&utm_campaign=morningbell&mkt_tok=3RkMMJWWfF9wsRoiu6zBZKXonjHpfsX56uUuWqCwlMI%2F0ER3fOvrPUfGjI4ESsNrI%2BSLDwEYGJlv6SgFQrLBMa1ozrgOWxU%3D