Constitution Week is Upon Us! The Black Robe Regiment Presentation Begins! Get your free tickets today in one of eight locations across SC, NC, and GA.

They answered the call. Will you?
Reverend Dan Fisher's Black Robe Regiment presentation is marching our way Constitution Week, September 17th to 23rd to a venue near you: SC, NC, GA.
* Please note below. Hendersonville location for the Tuesday, Sept 19th presentation has changed to the Operations Center, 305 Williams St., HVL. Presentation times are the same - 11AM and 7PM. Plenty of parking too. If you already have a free ticket, no need for another.
The event is free. Donations gladly accepted to offset costs.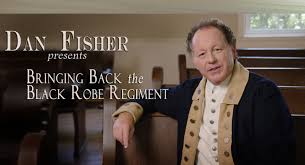 The concept of the Black Robed Regiment has deep roots in American History particularly in our struggle for independence. The patriot preachers who are remembered as members of this esteemed legion of warriors who come alive once again via Pastor Dan Fisher's highly acclaimed Black Robed Regiment presentation.
It is a fifty minute interactive, multi-media historical presentation of the story of these courageous preachers that also features Revolutionary War artifacts to rival the Smithsonian.
The content is non-political. It is a history lesson we bring to your for Constitution Week. Come meet Patrick Henry, Abigail Adams and the colonists too!
* In Hendersonville, Tuesday, September 19th:
Location has been moved to
City of Hendersonville Operations Center, 305 Williams Street, NC 28792.
Seating is limited to 150.
Directions here.
ATTENTION
Hendersonville Venue Ticket Holders:
If you
already
have a ticket for the Hendersonville venue
DO NOT
sign up again for another ticket from
For the Black Robe Regiment Presentation
Tuesday, September 19th, 2017, 11AM and again at 7PM
at the
Williams Street is at the end of 1st Avenue off Main Street. Travel to the end of 1st Avenue. Make a left at the STOP sign at Williams Street. The second building on your left is the
Operations Building
There is plenty of parking
on the grass on the corner of 1st Avenue and Williams Street
in the parking lot at the Operations Building
in the police yard across the street.
We will also have 'Parking Attendants' to direct - including ...
Patrick Henry
Tickets are free but we gladly accept donations to offset expenses (between 8K and 10K) to bring this unique opportunity to you.
There are several ways to help us raise money for the BRR Presentation
1- The Go Fund Me page. All proceeds go to expenses.
2- Or you can donate to Liberty Church, BRR Ministry, a 501c3 here. Again, all proceeds go to expenses for the venue.
3- Attend Pizza and Movie Night fundraisers either in Hendersonville or Asheville.
Adult Tickets: $25. Student tickets: $15 (under the age of 18 or college ID)
MANDATORY RSVP so we have enough food! Contact Jane 828 692 3117 or Jane@AshevilleTeaParty.org with your name, phone, and LOCATION - Hendersonville or Asheville) you will attend. 🙂
Includes, pizza, brownie, drinks (soda and water)
Movie: Voiceless. A young, reserved, war veteran, moves to North East Philadelphia to start an inner city community outreach and puts his life on the line to stand against an abortion clinic that moved across the street from his building. He puts everything on the line to make a difference!
In Hendersonville: Tuesday, September 5th, 2017: 6PM at Fruitful Seasons Pistol Packing, 1927 Spartanburg Hwy #20, Hendersonville, NC 28792. (Next door to Pet Source, corner of Spartenburg and Highland Lake/Upward Rd.) RSVP 828 692 3117 by Tuesday, Sept 5th to Jane 828 692 3117 (name, your phone, location). Seating is limited to 25.
In Asheville: CANCELLED for weather. Tuesday, September 12th, 2017: 6PM, Skyland Fire Department, 9 Miller Road, Skyland. RSVP 828 692 3117 by Sunday, Sept 10th. (name, your phone. location). No limit on seating.


Stay on top of the latest news with us
See our Facebook pages to Share our posts