Weekly Sentinel Strategy Call Notes, 3/18. 2019
If you missed our call, be sure to join our Facebook group and watch the livestream.
As we mentioned in our call last night, Heritage Action will be hosting a Fly-In Event for Sentinel Nation to come to D.C. and urge our representatives to support the Born-Alive Abortion Survivors Protection Act on Wednesday, April 3. You will be joining our government relations team and lobbying in-person for Members of Congress to sign the discharge petition in support of this bill. This will not only be a great opportunity for us to hold our conservative representatives accountable, but to appeal to many moderates from both parties about the necessity of this legislation. If you'd like to get in on the action and join us for this very special event, follow this link to reserve your spot!
For more information on the bill and the discharge petition, click here. We need 218 signatures from House members, and we expect the discharge petition to be available on April 2, giving us the perfect time to lobby the House to force a floor vote.
President Trump's First Veto—President Trump used his veto power to block a resolution to overturn his national emergency declaration. An underlying factor for some Republican defections is their concern for the precedent this use of executive power might leave. Both the House and Senate lack the votes to overturn President Trump's veto.
On Fox News last week, Executive Director Tim Chapman stated that we want to see conversation open up about the limits of executive authority, but we must be careful not to conflate the issue of presidential authority with the very real crisis on the southern border.
Motions to Recommit—The minority party in the House has the right to issue a Motion to Recommit to add amendments to any bill before its final vote. In a few short months, House Republicans have shown more adeptness at using this strategic tool than Democrats ever managed when they were in the minority.
House Republicans have been using this power to call out Democrats on their radical stances by adding provisions to bills that would expose their policy beliefs. For example, on March 8, House Republicans used a motion to recommit to add a declaration to outlaw illegal aliens from voting in American elections. All but six House Democrats chose to vote against this motion. Using the Motion to Recommit is a strategic way for House Republicans to hold their Democrat members accountable to their radical liberal beliefs, so keep an eye out for these in future votes!
As always, thank you for your support and advocacy.
Janae Stracke
Grassroots Director
Heritage Action
For additional resources and information on H.R. 1, be sure to read our issue toolkit.

With your help, we can take on the liberal House majority and bolster the conservatives in Congress. See you on Twitter!
This was a busy week, with Tim's CPAC appearance, the Senate's failure on Born Alive Abortion Survivors Protection Act, and a Senate confirmation for the EPA director. Let's break it all down: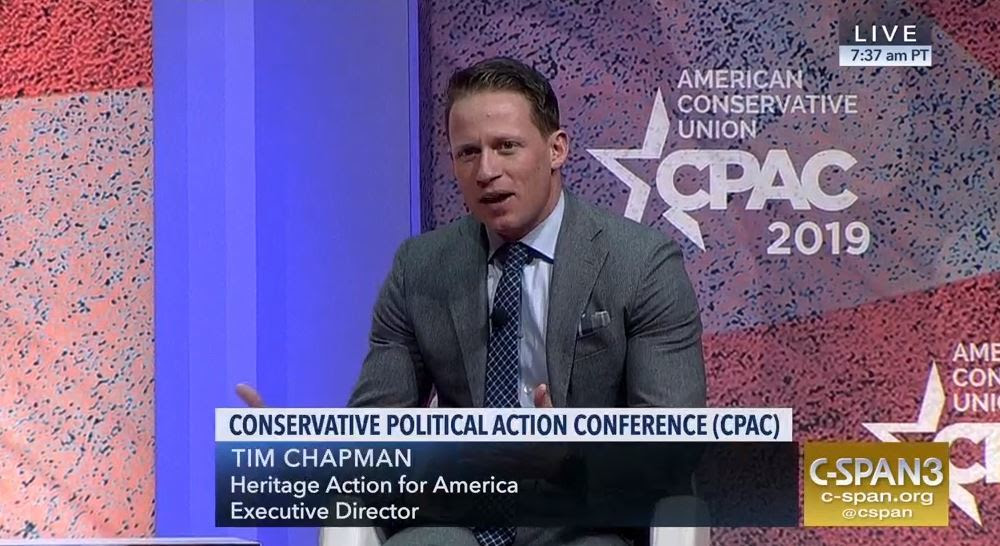 "Taxes cuts were not the government's money… it was the people's money in the first place," Tim Chapman, Executive Director of Heritage Action told the audience at CPAC on Thursday.
Tim spoke alongside Senator David Perdue at CPAC where they discussed tackling the debt crisis and how to message conservative policy to the next generation. CLICK HERE for the full video.
Vice President Jessica Anderson spoke at a press conference for the Born Alive Abortion Survivors Protection Act alongside House Whip Steve Scalise, Rep. Anne Wagner, Rep. Chris Smith and other pro-life Members and advocates.
"This bill is not about being pro-life or pro-choice, this about whether or not health care professionals will provide health care on the table to our most of vulnerable patients," Jessica said. Click here to read a recap of the event from the Daily Signal.
Next week, the House is voting on H.R. 1, the dubiously named, "For the People Act." This bill would federalize and micromanage states' election processes, removing power from the people and placing it in the hands of federal bureaucrats.
H.R. 1 is the Democrats' signature piece of legislation and they are using this bill to rig the election system in favor of Democratic politicians by undermining America's electoral process.
For instance, H.R. 1 would:
Sabotage state voter ID laws—When arriving at the polls, voters will not be required to show ID and can simply sign a statement in which they claim to be who they say they are.
Mandate same-day registration—States will be required to immediately register a person to vote upon request, even on the day of an election. With no buffer-period to verify personal information, this provision could easily lead to voter fraud.
Automatically registers ineligible voters—States will be required to automatically add to voter registration rolls every person, regardless of voter eligibility, who partakes in certain government programs, such as receiving welfare or obtaining a driver's license. This provision will automatically enroll ineligible voters such as illegal aliens.
This is just the beginning of a long list of problems with H.R. 1. Read more here. Then on Monday, call your member of Congress and tell them to vote "NO" on H.R. 1.
In the Sunday edition of the New York Times, Sentinel Dale Swanson was quoted in an article about Democrats in red districts. Dale attended a town hall for recently-elected Rep. Abigail Spanberger (D-Va.), and came prepared with substantive questions in order to hold her representative accountable to voters.
""It's a challenge, but it's what I signed up for," Ms. Spanberger said in an interview after the town hall. She made a point of thanking her more critical questioners, including Dale Swanson, a founder of the local conservative women's coalition, for their presence and their questions.
Activists sometimes question whether they can influence a democratic member of Congress; Dale's example shows that the answer is definitively "Yes." You're never going to make them them a dyed-in-the-wool conservative, but you can keep them from supporting some very awful legislation.
It's been another busy week. We appreciate every one of you who came up to speak with us at CPAC. We are so grateful for your support. Thank you for reading and have a great weekend.
Tim, Jessica, and the Heritage Action Team